BarrierBack™ carpet portfolio launched in 5 collections and 28 designs
Acoufelt is pleased to introduce our new carpet portfolio, BarrierBack™, launching with 5 new designs; Elevate, Flow, Vittina, Argentium and Satellite, in a total of 28 new colorways.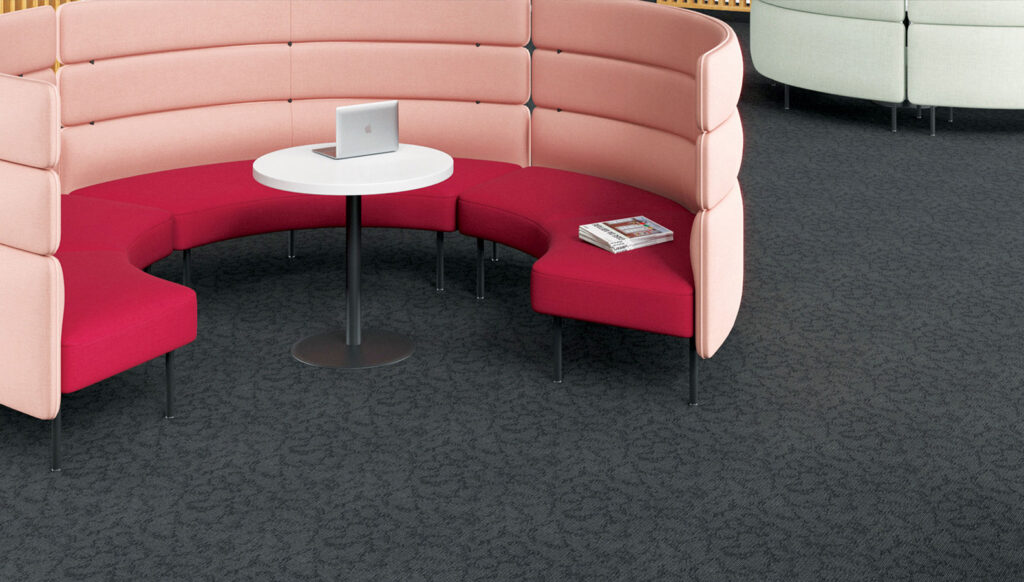 BarrierBack™ carpet tiles are designed for aesthetic and acoustic versatility. The collection is available in selected patterns and colorways that integrate with Acoufelt's wall and ceiling offering, whilst also demonstrating functional sound absorption and sound transmission capabilities.
BarrierBack™ carpet tiles achieve absorption and transmission capabilities through both the face pile layer and the impervious backing components. The face pile layer facilitates moderate sound absorption, trapping sound in the loop pile. The impervious backing works to prevent sound from transferring through the tile. This is measured in 'Rw' (Weighted Sound Reduction Index), and is an important environmental consideration for buildings with timber structured floors. Due to these combined acoustic benefits, BarrierBack™ carpet tiles can be used to create the optimal environment for acoustic comfort.
A substantial component of the face pile layer in BarrierBack™ carpet tiles is comprised of recycled ECONYL yarn, made from regenerated nylon fibers recovered from fishing nets, fabric scraps, carpet flooring and other industrial waste. Such sourcing and manufacturing efforts are just one of the means through which Acoufelt is attempting to 'close the loop' on the circular economy. BarrierBack™ carpet tiles are also QuickDrop™ compatible. QuickDrop™ is an innovative 'no-adhesive' gripping layer, available as an added extra.
BarrierBack™ will be launched to the Australian market in November 2020. The Acoufelt BarrierBack™ portfolio is yet another commitment to Acoufelt's holistic and integrated design approach to aesthetics and acoustics, which we call Acoustic FWC™.