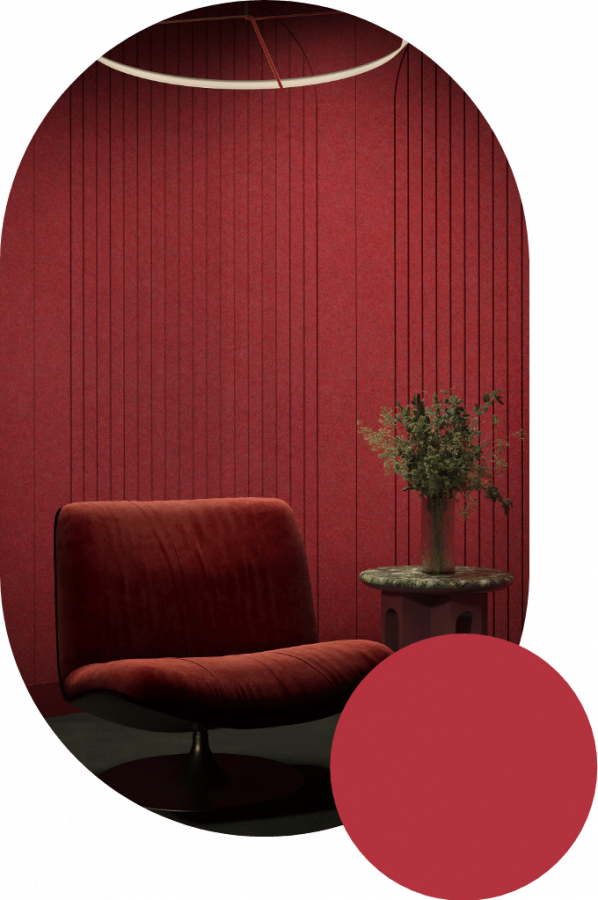 Trend influence 
As much of the world has experienced the paradigm shift toward living with and managing risk, we are now welcomed back into a world where we can leave our houses and fall back into the regular freedoms of our former lives. There is a lost generation of who will have spent two of their formative adult lives with little or no access to culture, clubs, galleries and restaurants. There is an am impetus to break free and indulge in a fatalistic night of decadence, making up for lost times; red wine, rich food, friendship with strangers, speakeasy bars and underground clubbing. It feels exciting but also dangerous. Visually, this translates into a dark, dreamlike aesthetic, driving a palette of dramatic and theatrical colours. Statement, shadowed reds make you feel passionate and energized, conveying an expression of a rejection of risk. We see this colour palette alongside furniture taking on anthropomorphic-like qualities, fashion that favours expression over utility combined with statement, symbol-laden jewellery.
Colour description 
A vibrant medium between 'Lipstick Red' and 'Peppercorn' tones with hints of darker charcoal thread poking through.
Emotion/Feeling
Currant holds strong connotations to love, desire and seduction, while on the other hand evoking feelings of danger, anger and violence. In either interpretation, this tone conjures a sense of energy and instantly grabs attention, thanks to its high visibility.